Our Corporate Goal:
A Functioning Circular Economy
Werner & Mertz is a family-owned business in the hands of the fifth generation. With our brands, particularly the trusted brands Frosch and Green Care Professional, Werner & Mertz is established and recognized as an innovative market leader for cleaning products and laundry detergents.
Sustainability is our foundation. We want to make a substantial contribution to conserving our natural resources. Consequently, we live our commitment to a functioning, energy-saving circular economy that protects the climate and maintains biodiversity. Every employee is supported and asked to contribute to achieving our goal according to his/her individual needs and abilities. We aim to make such an integrally sustainable lifestyle attainable for the majority by offering ecological,  high-performance cleaning products and laundry detergents.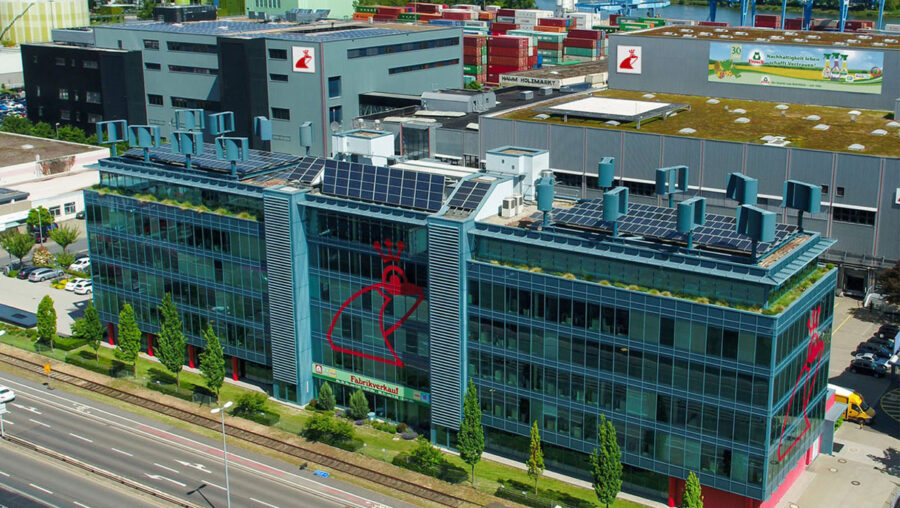 Our innovations and engagement
With our innovations and engagement, we set standards and share ideas beyond our own market. In concrete terms, we strive to stay one development generation ahead of the current ecological benchmark for all the essential elements of our products, i.e., formulas, packaging and production. For more than 150 years, we have had a strong connection to our Mainz location. Since 1953 we have operated a second site in Hallein, Austria. We are now represented in many countries inside and outside Europe.
We achieve our goals as an eco pioneer together with the 1,000-plus employees at Werner & Mertz. We are proud of our employees and their solidarity with the company. Their identification with corporate engagement, philosophy and products is a reliable strength of Werner & Mertz.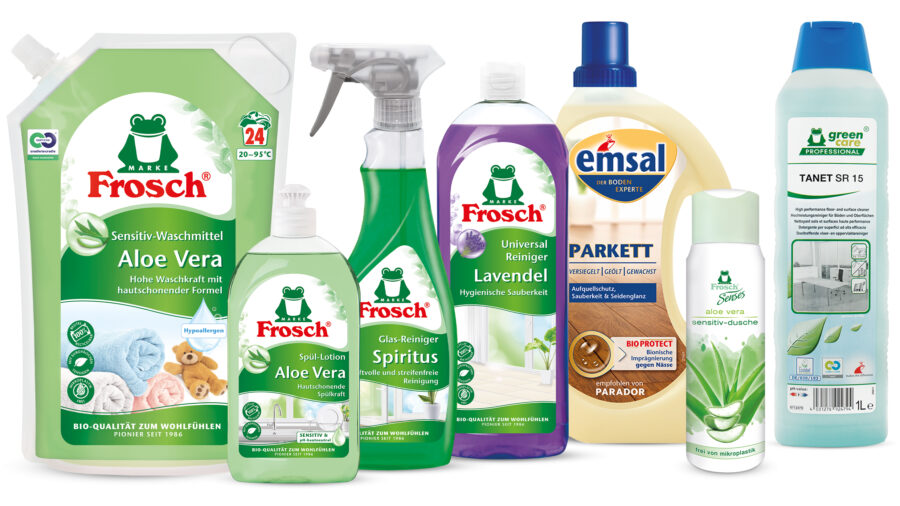 Our Innovative Products and Brands
With our trusted brands, particularly Frosch, emsal and Green Care Professional, we have made a name for ourselves as an innovative family business.  Our portfolio contains ecological and high-performance cleaning products, laundry detergents and shoe care products.
In the Consumer Division, our focus in on consumers to whom we offer an extensive range of products for cleaning and care of their homes. The Professional Division with its high-performance hygiene solutions for professional cleaning serves large-scale customers in professional building cleaning and commercial kitchens.
Corporate Policy
The key internal and external context issues of the Werner & Mertz Group are embedded in consolidated form in our corporate policy. Our corporate profile is described here along with our goal orientation, our engagement in the areas of environment, energy and quality and other key topics and values for which we stand and by which we live.
The content of our corporate policy serves as our guideline on which we orient our decisions and our conduct.