LIFE Project: sloping mires in Hochwald
The Hochwald National Park in Hunsrück is an area with the highest priority for nature conservationists. Today, the ecological system is still characterised by large peat bogs. The sloping and transition mires or bogs in the Hochwald are home to a great number of animal and plant species. Given their rarity and human intervention in their moor habitat, the diversity of flora and fauna and species has become seriously endangered. Initiated in 2015, the LIFE project "Sloping mires in Hochwald" pursues the goal of reactivating the valuable wetlands so that flora and fauna typically found in mires can resettle here and halt the disintegration of the peat. In addition to other organisations and government agencies, Werner & Mertz works together with NABU Rhineland-Palatinate to make this project a success.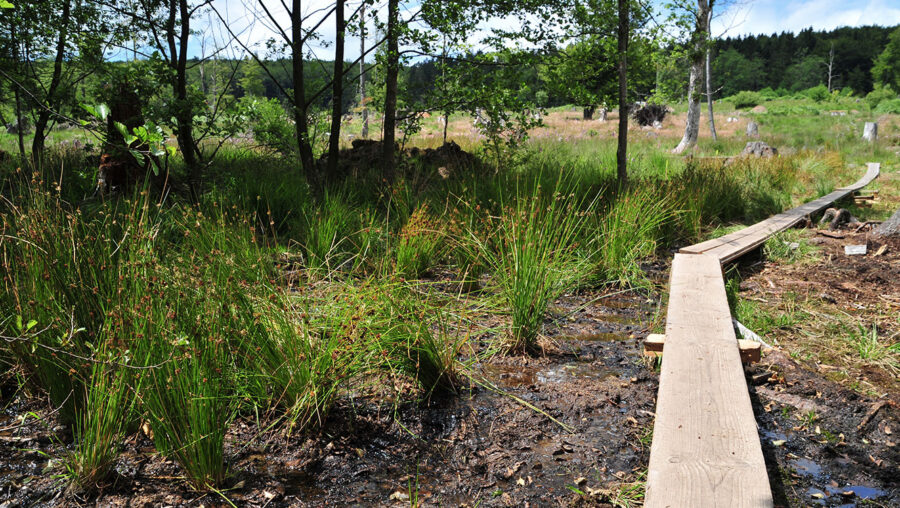 Moors for climate protection
Intact peatlands contribute greatly to climate protection as they store CO2 over the long term. Translated into figures: although bogs cover only three percent of the world's surface, they contain more than 500 gigatons of carbon in their peat (more than 1,800 gigatons of CO2). That is twice as much as the entire forest biomass in the world (30 percent of land mass).
Road construction, draining and deforestation over the years caused significant changes and, in some cases, the loss of bog habitats. Where the moor is drained, the peat dries out, begins to mineralise and disintegrates. The process not only leads to the loss of a natural environment with unusual plants and animals, but also releases into the atmosphere the carbon dioxide which had been held in the intact bogs. Protection of the bogs, therefore, contributes to climate protection.
After an intense planning phase at the beginning of the project, the rewetting of the bogs was carried out. Targeted steps included the careful removal of spruces in such a way that the ground was not damaged or the rest of the peat destroyed. At the same time, volunteers worked by hand on hundreds of places to close and block former drainage ditches. The positive effect of all that manual labour can be seen today. The mineral decomposition in the last remnants of peat has been stopped and rain water, even after heavy precipitation, now flows measurably more slowly out of the area than before.