Climate Hero campaign from Tana-Chemie draws attention to the subject "sustainable public procurement in professional cleaning sector"
Tana-Chemie GmbH, the Professional Division of the cleaning products manufacturer Werner & Mertz of Mainz, has shown recently how the complex topic of B2B advertising for selected target groups can be translated into an innovative and successful awareness campaign.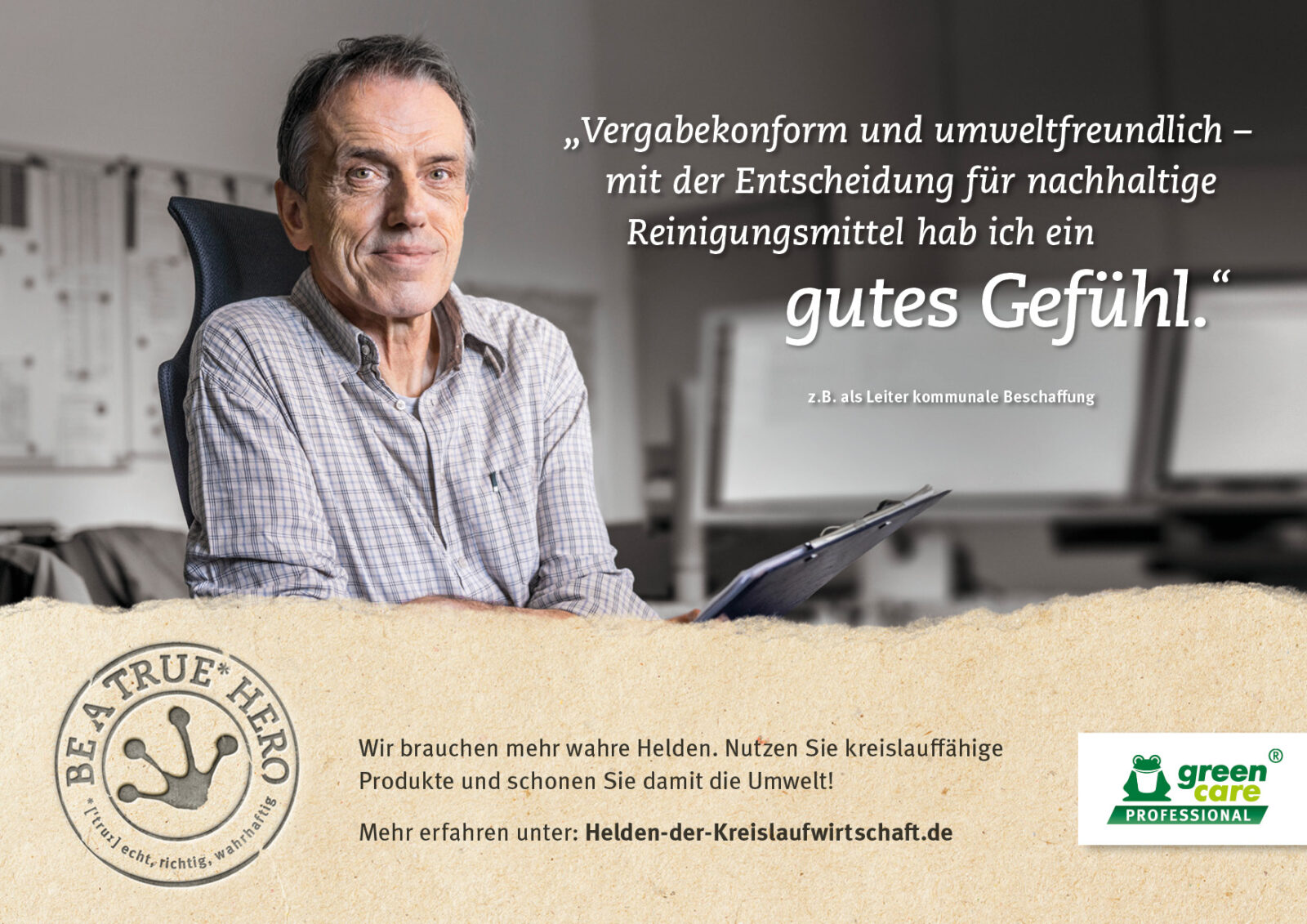 "Compliant with contract awarding criteria and environmentally friendly – with the decision in favor of sustainable cleaning products I have a good feeling."
Quote from a public procurement manage
We need more true heroes. Use circular products and be good to the environment!
Read more at: Helden-der-Kreislaufwirtschaft.de
Dual approach for one goal: Sustainability in professional cleaning
For the first time, the cleaning products manufacturer worked with the agency Active International on a nationwide campaign to raise awareness of sustainable public procurement in the professional cleaning sector. By addressing the target group with "Be a true hero", the campaign uses a highly creative communicative means which is not typical for the B2B segment. The campaign has its own dedicated site Helden-der-Kreislaufwirtschaft.de , with plenty of information to acquaint visitors with the criteria and benchmarks for ecological cleaning in the professional sector.
With a mixture of new attention-getting Out Of Home and digital advertising formats, the campaign is meant to raise awareness in the B2B environment and among the general public. Although §45 of the German Circular Economy Act defines the obligations incumbent on public authorities, there is still a gap between the legislation and its implementation. The public sector, with a procurement volume of more than 300 million EUR, has the power to push ahead climate reversal in Germany. However, that potential remains largely untapped, with bid requests for sustainable products making up less than two percent of the total. The campaign pursues the goal of making public procurement criteria more sustainable by drawing attention to this problem, bringing about a change in thinking and providing information sources (Websites Helden-der-Kreislaufwirtschaft.de and vergabe-insider.com ).
Large-scale Out of Home media for quick expansion of campaign reach
In the first phase of the campaign from 28 September to 14 October 2021, Tana used targeted OOH advertising to expand the campaign's reach rapidly and generate attention in public space.
Large-scale billboards were installed within 500 meters of elementary schools, daycare centers and public facilities in cities with more than 100,000 residents in Bavaria, Hessen, Baden-Württemberg, Saarland and Rhineland-Palatinate. The advertising successfully addressed purchasing decision-makers on their way to work. Other outdoor floor graphics were placed in the government district in Berlin to gain the attention of Members of Parliament. As the issue becomes more relevant to society, pressure is put on suppliers and service providers to take action. During the heroes campaign, more than 400 OOH spaces were outfitted with relevant geotargeted messages and over 17.5 million contacts were made with adults, 14 years and older. From 1 October to 6 December 2021, the campaign was extended to suitable digital environments to optimize contacts and embed the messages.
"We are confident that with our hero campaign we can gain high visibility for the important topic of ecological cleaning in the professional sector. To do so, we are relying on the true everyday heroes," said Xiaoming Bai, International Marketing Director at Werner & Mertz Professional.