New Frosch shop in downtown Mainz
A green Frosch comic figure and the brand logo already adorn the shop window and soon the interior will be unmistakably dedicated to the Frosch from Mainz. In January 2023 the family company Werner & Mertz is opening a Frosch shop in downtown Mainz. Not far from the cathedral at Schöfferstraße 6, the entire eco brand product range will be offered, just a few kilometers from where they are produced.
Besides the classic cleaning products and laundry detergent, the portfolio includes soaps and shower gels, Frosch baby products and Frosch Oase room fresheners. Customers can look forward to finding products that are not sold in supermarkets or health and beauty aids stores, such as cuddly soft frogs, funny greeting cards, buttons and more.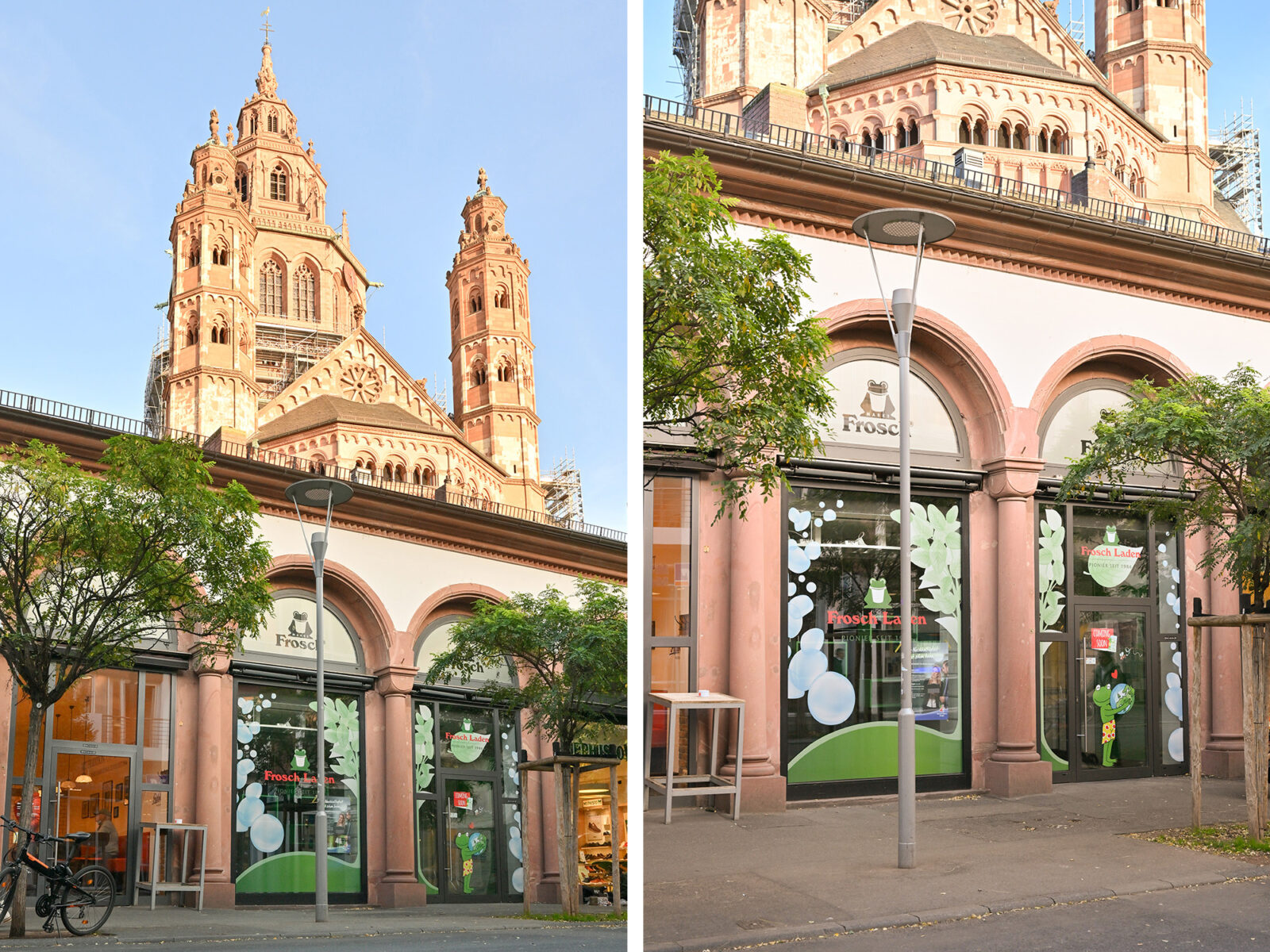 Customers can test new products
Above all, the shop will be a communications platform where ideas can be exchanged and consumers questions answered. "We anticipate many interesting conversations all about our topics of sustainability and the circular economy and will happily give customers tips on cleaning and washing," says Wolfgang Feiter, the head of Frosch Marketing and initator of the Frosch shop. The Social Media Team from Frosch is expected to be a semi-regular presence there to talk face-to-face with visitors.
Customers will have the exclusive chance to test products before they are launched on the market. They can take an article home for a real-life test. When the test is finished, customers will use a QR code to call up a questionnaire and evaluate, for example, a fragrance or cleaning results.
One of the best-known Mainz brands
"Finding the location for our new Frosch shop was a stroke of luck. Here we can reach young families, students and tourists from Germany and abroad. City tours often stop at this corner and, in the future, guides can tell a successful brand story in Mainz," says Feiter.
The family company Werner & Mertz of Mainz was founded more than 150 years ago. Since 1986 the brand with the green frog has been on the market – an eco pioneer from the start. The award-winning trusted brand stands for innovative formulas based on plants in recyclable packaging and environmentally friendly product manufacturing. That's all summed up in the motto "integrally sustainable".
Planning for additional shops
Werner & Mertz is considering opening other shops outside the capital of Rhineland-Palatinate at some point in the future. "University towns and green cities like Mainz simply fit our Frosch brand," says Feiter.
The exact opening data of the Mainz Frosch shop will be announced on the Frosch brand's Facebook channel (@markefrosch) and Instagram channel (@frosch_de).