Recyclable alternative to PFAS textile waterproofing
Werner & Mertz and cooperation partner have developed a fluorine-free patented process
Just a few weeks ago only a few experts were familiar with the acronym PFAS, which stands for per- and polyfluoroalkyl substances. Now almost everyone is talking about them. Recent research conducted by Süddeutschen Zeitung and broadcasters WDR and NDR has shown that (PFAS) are found nearly everywhere in Germany. More than 4,000 substances classified as PFAS are used in cosmetics, textiles and non-stick cookware. They are said to have negative effects on animal and human life. With the search on for alternatives, the Mainz family-owned company Werner & Mertz has already found a solution for that particular ecological problem in the treatment of textiles.
Newest pioneering achievement: PFAS-free initial waterproofing
The Research & New Technologies department at Werner & Mertz, in cooperation with the Grabher Group, has developed a PFAS-free first-time waterproofing process for functional clothing. As a rule, textiles are often treated initially with PFAS in a waterproofing process that uses a Durable Water Repellent (DWR). The research team used instead an innovative and patented combination of plasma pre-treatment and fluorine-free chemicals based on silicone which do not accumulate in the environment.
First, the fabric's surface is activated in a low-pressure plasma system and then is subjected to a wet chemical hydrophobing treatment, followed by drying and fixing. The process creates adhesion sites on the fabric and reactive groups to improve bonding. The DWR waterproofing adheres to the fabric even after several wash cycles, something that cannot be claimed by other PFAS-free DWR first-time applications.
"The low-pressure plasma technology in our company is currently the world's only available process that allows dry treatment of textiles. It is considered the most ecological and ground-breaking process in textile finishing technology. After many years of joint research with Werner & Mertz for the patented process, we have come closer to our goal of developing a dry and thus completely emission-free coating process for textiles. By combining this innovative plasma process and the ecological bionicdry® waterproofing product, we have reached a milestone in ecological DWR waterproofing, which has a significant effect on the carbon footprint of textiles. We are proud of our work," says Günter Grabher, CFO of the Grabher Group.
Werner & Mertz has relied on PFAS-free alternatives from the start
Later on, the first waterproofing can be reactivated with suitable after-treatment technology. For that purpose, Werner & Mertz developed the bionicdry® brand some years ago and offers a range of PFAS-free waterproofing products.
In the bionicdry® wash-in waterproofing technology, the bionic formula reliably maintains the water repellent and functional properties of the functional clothing  and outdoor equipment by filling in the plasma adhesion sites and refreshing the water repellency. The fabric's breathability remains unchanged. The formula is based on a complex of active ingredients consisting of biological chitosan and special waterproofing active substances which are free of harmful fluorocarbons. With the 2-in-1 detergent, outdoors fans are offered hygienic cleaning and PFAS-free high-tech waterproofing in a single wash cycle.
"With our product, we provide a 360-degree system of initial waterproofing and after-treatment, something that is absolutely unique in the sector. It prolongs the life and preserves the value of textiles. The ecological quality of our bionicdry® waterproofing has been verified by the Cradle to Cradle Platinum Level C2C Certified Material Health Certificate™. The products are also proven to be materially healthful and circular," says Vera Gratzl, Developer at Werner & Mertz.
C2C Certified Material Health Certificate™ is a trademark of the Cradle to Cradle Products Innovation Institute.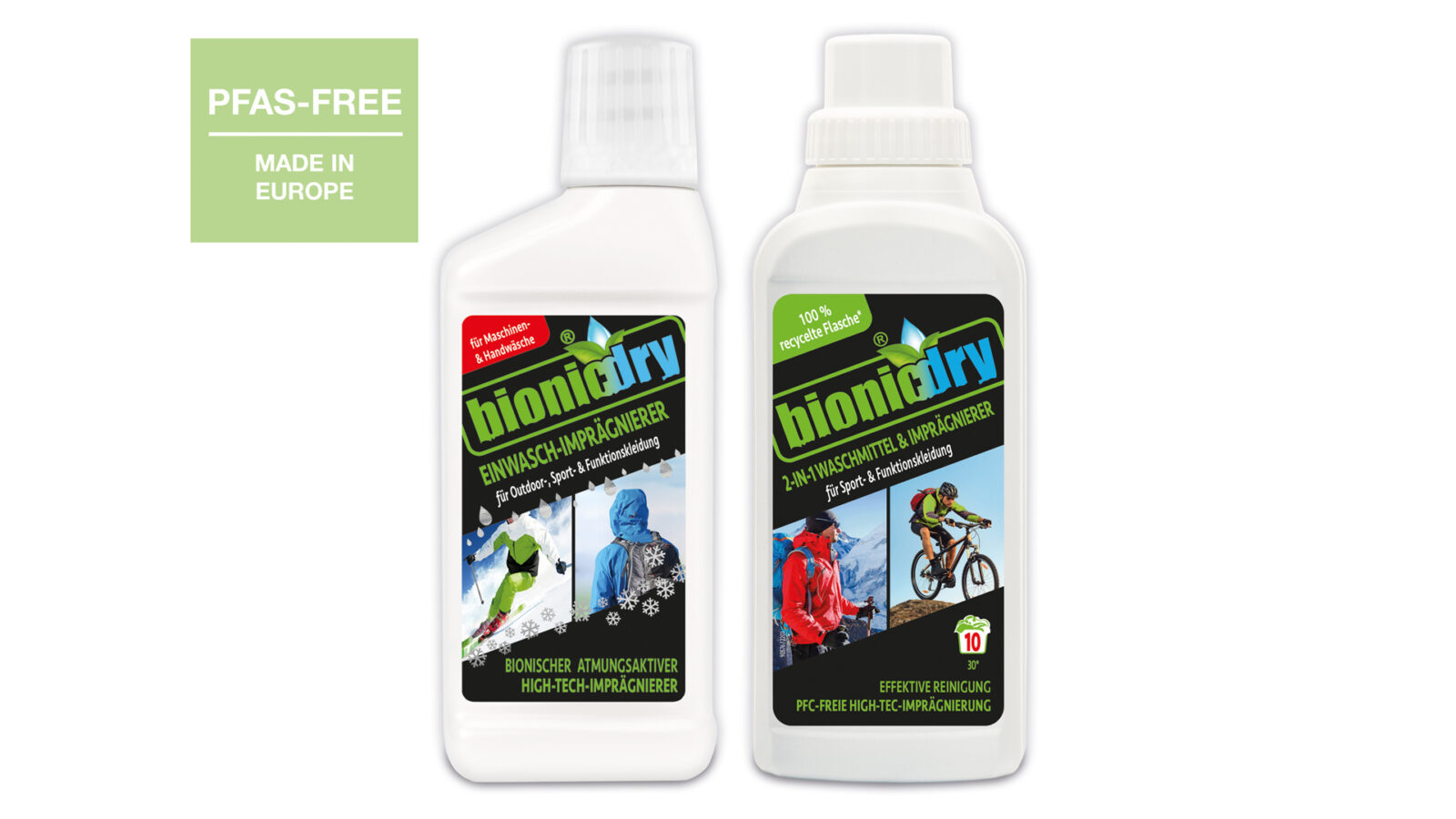 PFAS: good properties for functional clothing, but bad effects for the environment
PFAS cannot be wetted by any fluid—not water, oil, blood or soiling. That's why  perfluorinated organic compounds or "fluorocarbons" are often used to protect surfaces on floors, upholstered furniture or outdoor clothing. Their persistence is a positive attribute for waterproofing functionality, but a negative one for the environment. Fluorocarbons never degrade completely in nature or in the human body. What the general public is only now learning about PFAS has been known for a long time. Current European-level discussions about banning these substances are prompting companies, particularly in the textile industry, which is responsible for more than half of all PFAS in use, to search for less environmentally harmful alternatives with the same performance.
Genuine sustainability: as little as possible, so much as required
But does the performance really have to be the same? "In many cases, 'over-engineering' is the rule—the enormous protection that hydrofluorocarbons offer is perhaps necessary for firefighting, but not for the average outdoors fan. Normally, oil does not rain down from the sky," says Gratzl.  In keeping with the Mainz manufacturer's corporate philosophy, the research team developed an ecological alternative–one that protects functional clothing as effectively as required and treats the environment as gently as possible.
With this latest innovation, Werner & Mertz again takes the lead as a pioneer and develops solutions even before there is a commercial demand for them. Given the current knowledge of PFAS compounds, it won't be long in coming.