Frosch is "Most Trusted Brand" for the 21st time in a row!
Brands work as an "anchor for trust" in times of uncertainty
In turbulent times reliable brands cannot be shaken, according to this year's Trusted Brands Study from Reader's Digest. Among them is the Frosch brand, which study respondents declared most trusted in the household cleaner category for the 21st time in a row! Of 143 brands mentioned, the well-known eco brand from the family-owned company Werner & Mertz of Mainz was named ahead of competitors by a wide margin and once again designated the "Most Trusted Brand". Thirty-seven percent of the consumers questioned said they would recommend the brand to family and friends.
From the seven performance metrics that go into brand trust from the respondents' perspective, product and service quality—that is, brand reliability—stands ahead of other criteria. For 73 percent of the respondents, reliability is in first or second place of seven.
"We are living in a crisis-ridden time unlike any other. In light of our situation, the word "trust" has taken on an entirely new meaning. Many companies are trying to find the right balance between what they do for their image and position and what they do to help people directly," says Andreas Schröder, Managing Director of Reader's Digest Deutschland. "Today it is truer than ever that many are longing for security, more normality and more lightness of being. That's where companies and brands can build an anchor for trust and point out prospects for the future. Our Trusted Brand Study confirms these findings completely."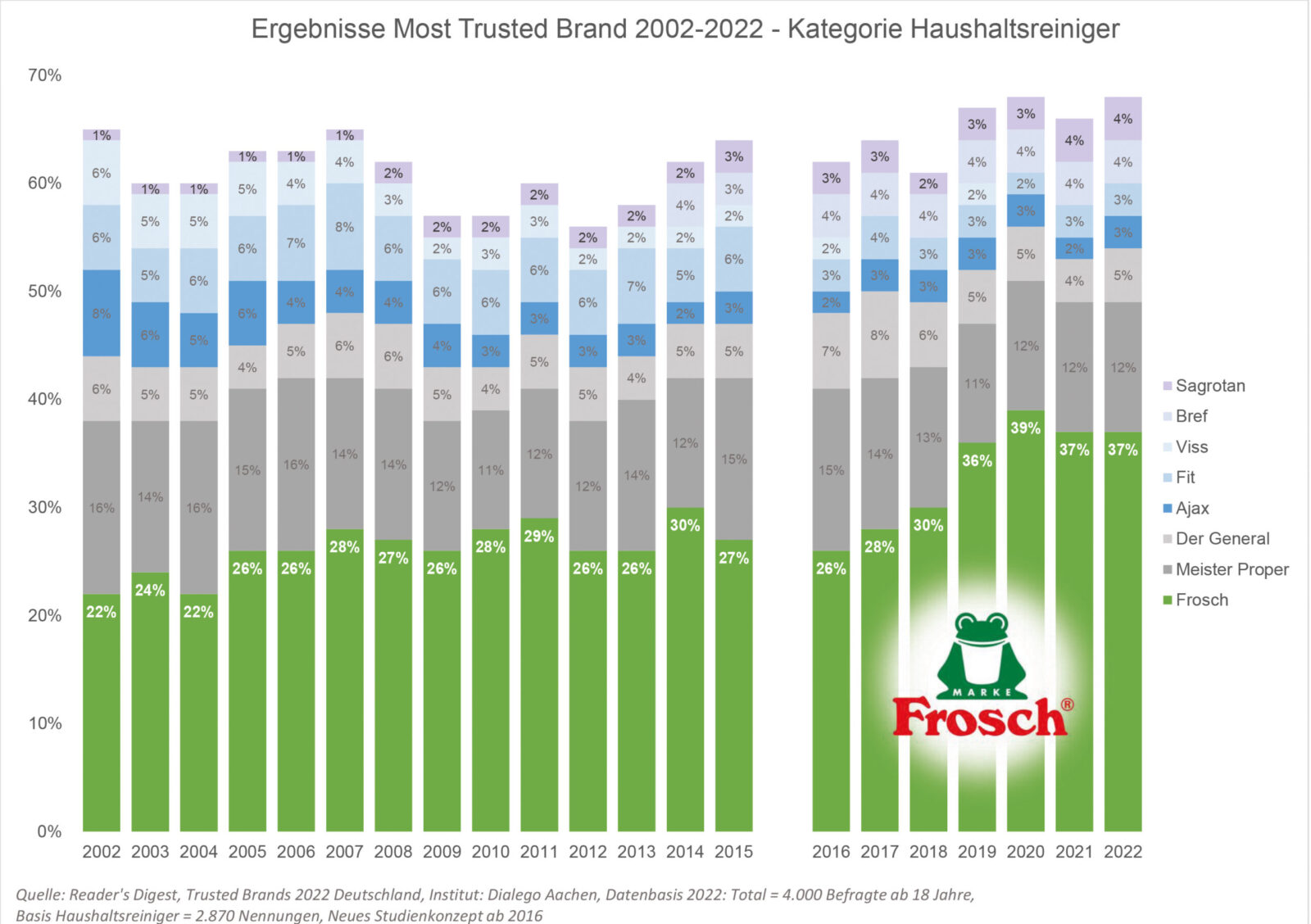 Sustainable, modern and joyful
Since its founding 36 years ago, the Frosch brand has stood for ecological and high-performance cleaning products. This year the trusted brand has made the largest design relaunch in company history and, more than ever before, connects ecological credibility with a feel-good atmosphere on the new product labels.
"Where we can link credible environmental benefits with positive feelings of joie de vivre and the variety sought by hedonists, we find the way to make sustainable brands for the majority. That's why it's so right to present our trusted Frosch brand now with a joyful, fresh and modern look," says Werner & Mertz owner Reinhard Schneider.
The first products with the new design are already on retail shelves. One after the other, all Frosch products around the world will be outfitted with the new design.
About the Trusted Brands Study:
Reader's Digest first conducted the Trusted Brands Study in 2001 and since then has surveyed German consumers on brand trust every year. The study is unique in that consumers name the brands without any prompts, that is, they are not given a list from which to choose. The consumers alone say which brands they trust most.
For the current online study made in January 2022, the magazine asked 4,000 adult consumers who represent a cross-section of the population (18 years and older) in Germany about their relationship to brands. Respondents named 3,500 different brands in 20 product categories and seven performance criteria.
With a paid circulation of about 170,000, Reader's Digest is one of the best-selling monthly magazines in Germany with a readership of 1.3 million.