The project "Frosch protects frogs" has existed since 1998. In cooperation with the Nature Conservation Center Rheinauen operated by NABU Rhineland-Palatinate, Werner & Mertz works to improve living conditions for the tree frog and other species of amphibians in the Rheinauen wetlands. To that end, NABU develops concepts and projects for peaceful coexistence of humans and nature. As a result of measures taken in past years, the vulnerable tree frog has found its way back. The frog needs richly structured territory with a high groundwater table in hills and flatlands. Ponds and backwaters are essential spawning waters for the frog.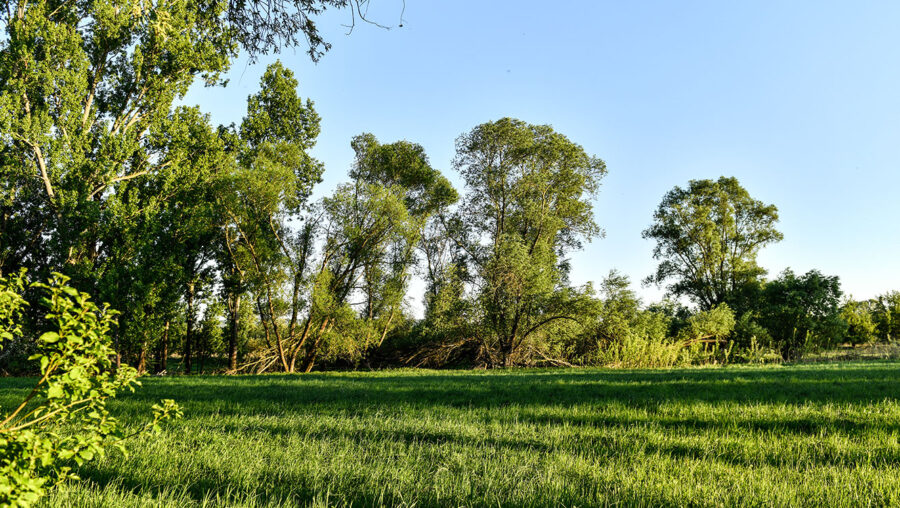 Biotope protection and the creation of small bodies of water
With the purchase of areas in the Rheinauen near Bingen-Gaulsheim , NABU protects the quality of an important biotope. Some cropland, an apple orchard and a recreation area were acquired with the plan to turn the areas gradually into near-natural meadows or orchards.
NABU currently holds 58 hectares of land in Bingen and its surroundings. In the interest of conservation, NABU works with farmers and volunteers on the use and maintenance of the properties.
In addition, small bodies of water were established in the Rheinauen near Bingen, particularly within the scope of the "Upper Rhine lifeline" (German: "Lebensader Oberrhein") project, which was concluded in September 2019. The project created new habitats for the tree frog. Maintenance is required because overly thick growth at the water's edge, sedimentation of the water surfaces and other changes run counter to the goal of providing a permanent home for frogs. Although the silted up areas are sometimes attractive, they are not suitable as sunny breeding grounds for amphibians. For this reason, conservation work sometimes involves the use of saws and mowers.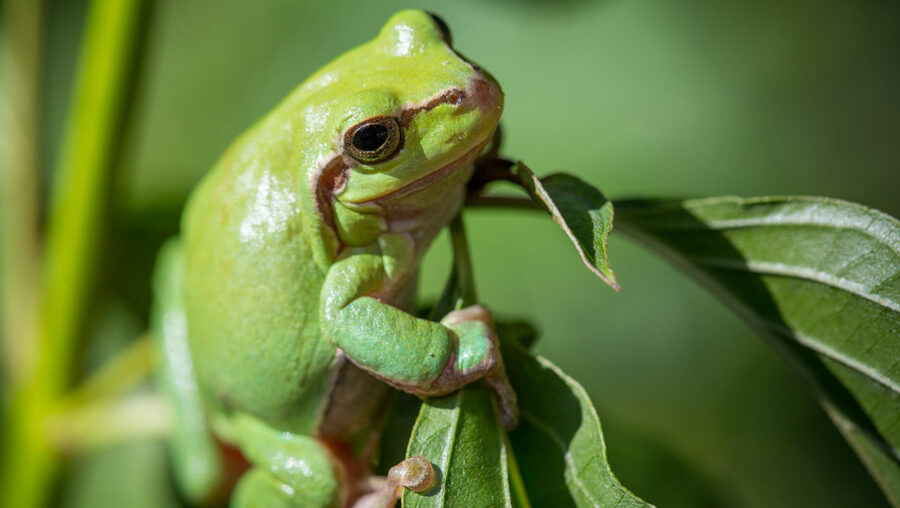 A new home for frogs
Besides the Rheinauen, the nature conservation area "Hinter der Mortkaute" near Bingen-Dietersheim offers ideal living conditions for frogs and other amphibians, many bird species and other animals. During construction of the highway interchange Nahetal in the 1970s, a gravel pit developed, which, given the very high groundwater level, transformed itself into a marshland with a large pond. In November 2019, the addition of six new small bodies of water intensified the former pit's function as a wetland biotope. Thanks to these measures, the Mortkaute now offers a permanent home for tree frogs, natterjack toads and others.
The "Frosch protects frogs" project develops continuously to expand habitats for the tree frog and its conspecifics and to protect them so that they can feel safe and at home in lovely Rheinhessen.